How to Tint and Care for Your Brows at Home
DESCARGO DE RESPONSABILIDAD
Este blog no ha sido aprobado por su departamento de salud local y no pretende proporcionar diagnóstico, tratamiento o consejo médico. Leer más

Este blog no ha sido aprobado por su departamento de salud local y no pretende proporcionar diagnóstico, tratamiento o consejo médico. El contenido que se ofrece en este blog es únicamente de carácter informativo. Consulte con un médico u otro profesional de la salud sobre cualquier diagnóstico u opción de tratamiento médico relacionado con su salud. La información de este blog no se debe considerar como un sustituto del asesoramiento por parte de un profesional de la salud. Las afirmaciones hechas sobre determinados productos a lo largo de este blog no han sido aprobadas para diagnosticar, tratar, curar o prevenir enfermedades.
En este artículo: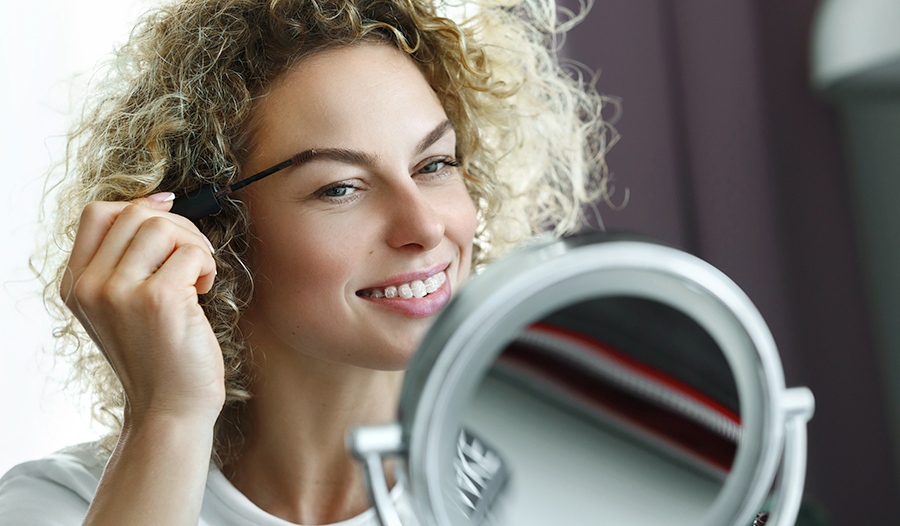 Eyebrows are the one facial feature that when properly enhanced, can miraculously transform your face, bringing all of your other features into balance and highlighting your natural beauty. If your brows are misshapen or the wrong color, an onlooker's attention will be drawn to the mistake rather than your beautiful face as a whole.
With the right brow color and shape, your eyes will pop, giving them the attention they deserve, even helping tired eyes sparkle. One simple way to achieve this at home is with a quick clean-up and brow tint.
Tinting your brows is easy and creates a fuller-looking brow, a youthful contrast on all skin tones, and even covers grey. This process can also help brows look fuller naturally without applying any additional brow enhancements for up to four weeks. Tints come in a variety of colors ranging from light brown to black. For the most natural look, you will want to select a shade that most resembles the root color of your hair. If you are looking for more contrast, select one shade darker, keeping in mind that you can add richness to your color by keeping it on longer.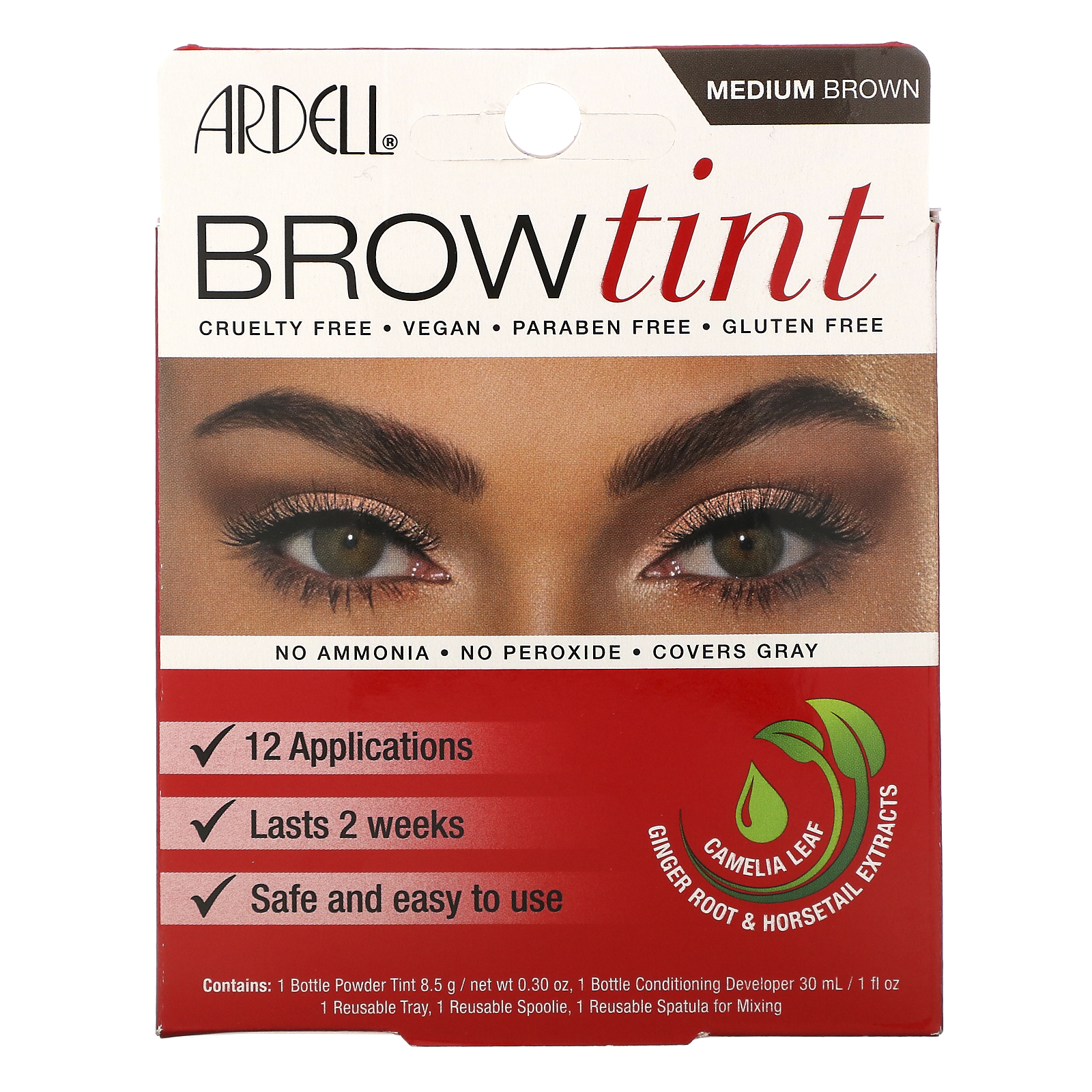 You'll need a few essentials and about 20 minutes (start to finish) and you will be well on your way to eye-popping, youthful beauty. I like using the Ardell Brow Tint 5 Piece Set because the color is true and lasting and it includes the tint, developer, mixing bowl, spatula, and applicator wand.
‌‌‌‌Step 1: Gather Your Materials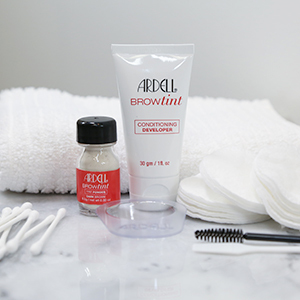 Before you begin, you may want to place a towel on your vanity to protect it from any possible staining that could occur from the tint mixture. Brow tint usually processes quickly, so you will want to have a handful of cotton swabs and cotton rounds at your fingertips.
‌‌‌‌Step 2: Clean Up Your Brows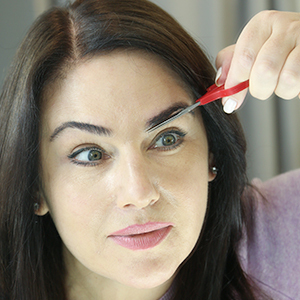 It's best to start with a little clean-up of your brows before mixing the tint. When your brows have a clean line and are nicely in place, you will have an even tint application and a better overall result.
Here are a few tips to safely clean up your brows:
Brush your brows upward with a

brow brush

looking for any hairs that are particularly long or sticking out. Hairs that are ¼ inch or more above your brow line are safe to trim with

scissors

.

Then do the same, brushing the hairs in a downward direction looking for longer hairs that are ¼ inch or more below your brow line. Go ahead and trim those as well.

Use the same rule for tweezing only removing the hairs that are below that ¼ inch mark across your whole brow area. I personally prefer a

precision, pointed tweezer

and you may find a

slant tip

just as easy to use.
Now that you've cleaned up your brows, they are ready to tint. Follow the directions from the Ardell Brow Tint set to ensure the proper ratio of tint powder and developer.
‌‌‌‌Step 3: Apply Brow Tint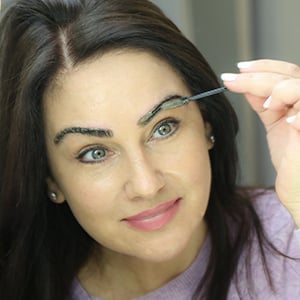 If it is your first time home tinting, after mixing your formula, apply an even coating (making sure the tint is not dripping) with the provided applicator. After about 30 seconds, remove some of the tint with a cotton swab to check how your brows are processing. After such time, if your brows have already begun to tint, reapply and continue for only another two minutes.
If they have not already started to tint, I recommend checking them again after two minutes, at which time you may need additional processing—up to 15 minutes for coarse grey hair.
Working quickly, while the tint is still on, use a damp cotton swab to quickly remove any excess tint from around the brow area, wiping it clean. This swift action will help prevent skin staining and keep a clean line around your brows.
‌‌‌‌Step 4: Remove Brow Tint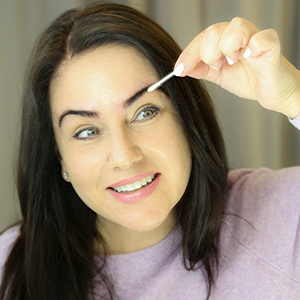 After the desired processing time, completely remove the tint with damp cotton swabs and cotton rounds until they wipe clean. If you have any staining, gently wash your brows with your favorite facial cleanser, dissolving any leftover tint residue.
‌‌‌‌3 Tips for Great Brows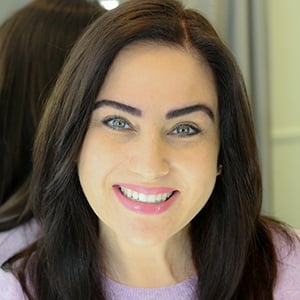 If you have thinner brows or want to define them with the tint, it may be easier to use an angled brow brush for the application. I recommend the

E.L.F. Small Angled Brush

for outlining your brows with the tint before the full application. This brush is also great to use with brow powders.

If you have sparse brows and want to fill them in, I recommend either a complimentary color

brow pencil

or powder to further enhance your results.

Brow gels are a quick fix if you haven't had time to tint and need to cover a pesky grey brow hair. The

E.L.F. Wow Brow Gel

is easy to use and it is available in four shades.
Your brows might look a little dark right after tinting, but they will fade gradually as you wash your face. I hope you enjoyed this quick and easy guide to tinting and caring for your brows at home.